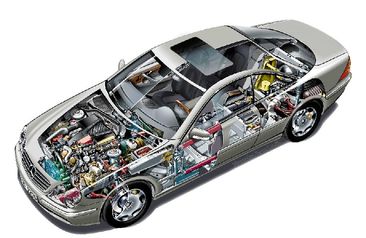 The course covers vehicle forces, torques, and dynamics experienced during operation, as well as individual components. It enables students to adequately design vehicles and their components for a safe, efficient, and comfortable operation. Afterwards, longitudinal and lateral vehicle dynamics are introduced, and the concept of vehicle stability is discussed. This will be followed by the principles of engine operation, transmissions, and power transfer. Additionally, an overview of components needed for power distribution and methods of torque allocation are introduced.
Table of contents
1. Introduction
History
Vehicle Production
2. Vehicle operation
Driving resistance, traction effort and driving power
Mechanics of driving forces
Mechanics of braking forces
Lateral dynamics and stability
Passive safety
3. Power generation
Combustion engine
Alternative drive systems
4. Power transmission
5. Power transfer and distribution
Shafts
Universal joints
Differentials
Literature
Bosch Automotive Handbook. SAE, Wiley, 2014.
Onori, S. und Serrao, L., Rizzoni, G.: Hybrid Electric Vehicles - Energy Management Strategies. London Heidelberg New York Dordrecht: Springer, 2016.
Reif, K.: Brakes, Brake Control and Driver Assistance Systems: Function, Regulation and Components. Springer Vieweg, 2015.
Reif, K.: Fundamentals of Automotive and Engine Technology. Wiesbaden: Springer Fachmedien, 2014.