Welcome to the Institute of Vehicle System Technology
Institute of Vehicle System Technology
Comprehensive competence in vehicle system technology and industry partnership - these qualities symbolize FAST at KIT. Cars, commercial vehicles, mobile machines and rail vehicles are at the heart of our research on futuristic vehicle designs. Students and young scientists alike will find stimulating challenges and perspectives here!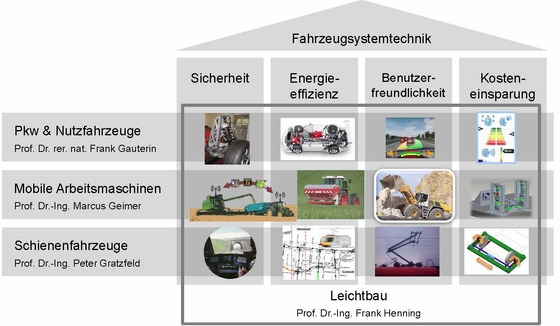 In numerous attractive, content-based and methodically coordinated courses, the FAST pursues an interdisciplinary system approach with the following key topics:
The Vehicle as a Mechatronic System
Human-Machine-Interaction
The Vehicle in its Mobility Enivronments
The Vehicle in Society and the Environment
The FAST institute is compromised of four independent parts: vehicle technology, mobile machines, railway system technology and lightweight design. These collectively offer a broad and attractive range of courses in the field of mechanical engineering. We invite yo to work with us on the solutions of tomorrow!
Interested? Click further!