Welcome to the Lightweight Engineering
Within the scope of the Excellence Initiative and in cooperation with KIT and the Fraunhofer-Gesellschaft, the Lightweight Engineering was founded at the Institute of Vehicle Systems Technology on January 1, 2009.
The focus of our research activities is on technologies for reducing the weight of vehicles. In this respect, lightweight construction is positioned as a cross-sectional topic and offers an interdisciplinary approach to reducing vehicle mass. Lightweight design with fiber-reinforced polymers and hybrid material systems is the main focus of research at the institute. In addition to new lightweight technologies, simulation and design methods are developed to virtually optimize product development processes. Research in the field of lightweight technology is closely linked to the Polymer Engineering Department of the Fraunhofer Institute for Chemical Technology ICT in Pfinztal and the KIT Institute for Applied Materials, Materials Science KIT-IAM-WK.
If you are interested in the wide-ranging field of lightweight design with its various forms of methods (simulation, design), materials (resins, fiber reinforcements, joining elements, hybrids) and technologies for production and integration of lightweight components, then we look forward to welcoming you at our institute.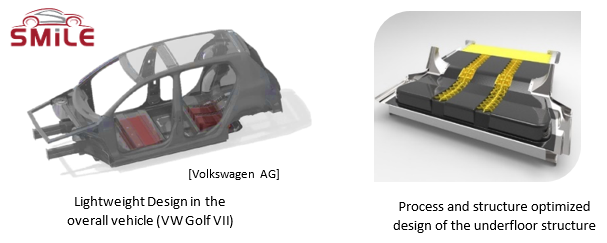 ThinKing - Auszeichnung für die Leichtbaulösung des Monats im März 2019
Lässt sich ein Bauteil mit der gewählten Geometrie wirklich herstellen? Antworten darauf liefern präzise Simulationen, die jedoch zeitintensiv sind. Beschleunigung soll ein neues Programm bieten, welches am Institut für Fahrzeugsystemtechnik am KIT derzeit entwickelt wird: Die Wissenschaftler kombinieren die Prozesssimulationen mit maschinellem Lernen und KI, sodass der Algorithmus Muster erkennen und schnell abschätzen kann, ob die Herstellung des Bauteils klappen wird. Das spart Kosten bei der Entwicklung und Herstellung.
Zur Pressemitteilung