PROJEKT: SMiLE
Contact:

Funding:

Bundesministerium für Bildung und Forschung

Partner:

Audi, Volkswagen, Porsche, Voith, BASF, Brökelmann, Clean-Lasersysteme, Dieffenbacher, Fraunhofer ICT, Fraunhofer IWM, Frimo, Novelis, TU Bergakademie Freiberg, KIT WBK, KIT FAST, KIT IAM, TU Braunschweig ifs, Universität Stuttgart, ThyssenKrupp

Startdate:

2014

Enddate:

2017
SMiLE - System-integrative multi-material lightweight construction for electromobility
The SMiLE project aims to create a deeper understanding of the multi-material design challenge against the background of processes for efficient lightweight construction suitable for large-scale production. The project focuses on the development of a novel lightweight design concept for the special requirements of electric mobility. The use of new materials and material combinations for weight optimization of function-integrated vehicle components for innovative structural concepts of electric vehicles in multi-material construction is one of the main concerns of the project. The aim is to use both thermoplastic and thermoset fiber reinforced plastics (FRP) as well as non-ferrous metals to create an innovative, functional overall body, whose material mix can be implemented in a variety of economic processes and, above all, enables the integration of new types of energy storage systems.
Consequently, the joint project concentrates on the following focal points:
Development of concepts and construction of an innovative hybrid body structure for electric vehicles based on fiber reinforced plastics as well as the non-ferrous metals aluminum and magnesium
Integration of energy storage systems for electromobility in the car body structure
Representation of demonstrator components for the construction of the multi-material body
Intensive consideration of hybrid joining technology as a key technology for an innovative composite body based on FRP, non-ferrous metals such as aluminum and magnesium
Evaluation of the multi-material construction concept by means of experimental and numerical component tests as well as a life cycle assessment
Development of a process that ensures a high-quality coating of multi-material substrates with today's quality requirements and adapted process temperature
New aluminum materials for adapted process windows in the low-temperature coating
Construction of a functional overall body in multi-material design.
SMiLE's approach is to create the basis for fundamental and cross-company innovations by integrating partners along the entire value chain (Audi, Volkswagen, Porsche, Voith, BASF, Brökelmann, Clean-Lasersysteme, Dieffenbacher, Fraunhofer ICT, Fraunhofer IWM, Frimo, Universität Stuttgart, TU Bergakademie Freiberg, TU Braunschweig ifs, KIT-FAST, KIT-IAM, KIT-WBK, ThyssenKrupp, Novelis).
The project is divided into a total of 8 subtasks:
Project management (AP0)
Concept phase, construction and design (AP1)
Material and process technology of continuous fiber reinforced thermosets (AP2)
Material and process technology of continuous fiber reinforced thermoplastics (AP3)
Materials and process technology of non-ferrous metals (AP4)
Joining technology for new electric vehicles in multi-material design (AP5)
Low temperature coating process (AP6)
Construction of the car body structure and analysis of the overall vehicle system (AP7)
The Institute of Automotive Systems Technology (FAST-LBT) is participating in the SMiLE project in a leading role in the mold filling and warpage simulation of both the thermoset fiber composite components produced by the RTM process and the LFT components reinforced with UD tape. Furthermore, FAST develops simulation methods to describe the forming behavior of thermoplastic tape structures. In coordination with Volkswagen, FAST is also responsible for the design of the themoplastic baffle geometry and the final thermoplastic demonstrator component. Furthermore, FAST supports the numerical estimation of concept ideas and the prediction of the behavior of reinforcing elements in the LFT process.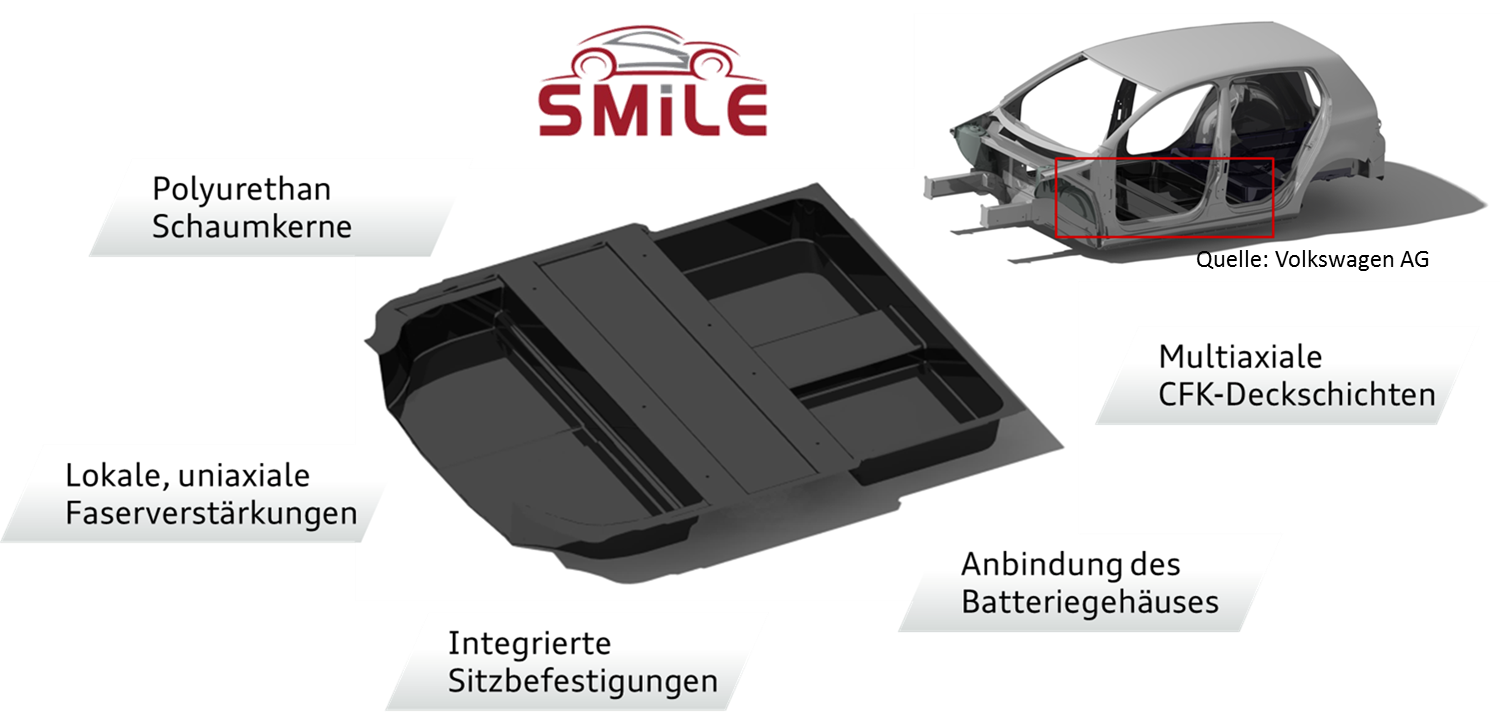 Awarded as a BMBF lighthouse project of electric mobility.