MWK Leichtbau-Challenge VirtualSMC
Contact:

Funding:

Ministerium für Wissenschaft, Forschung und Kunst Baden-Württemberg

Partner:

Startdate:

März 2020

Enddate:

August 2021
VirtualSMC: Efficient Virtual Process Chain for SMC materials for the Industrial Applications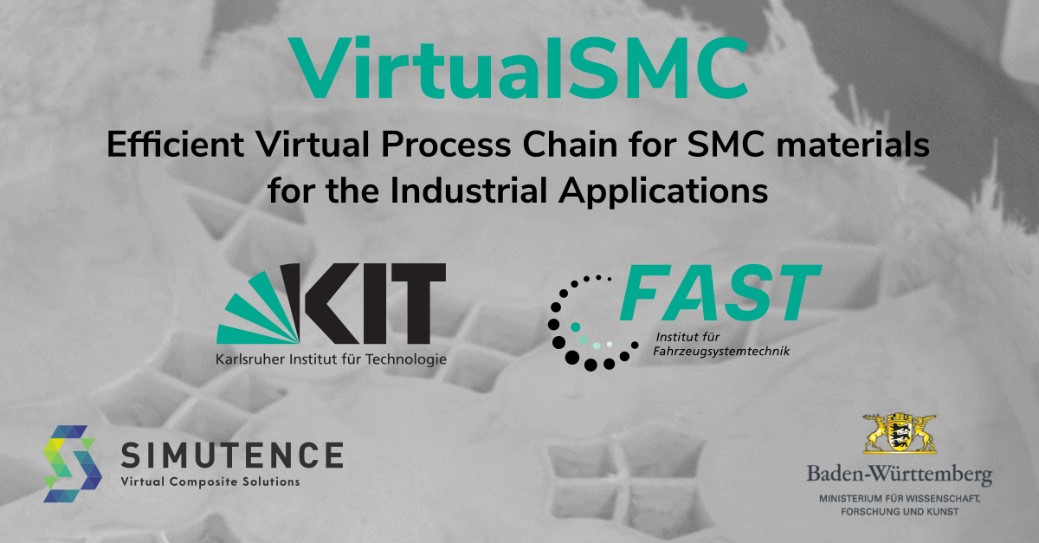 Source: KIT-FAST
High material costs, difficult to control manufacturing processes, and the challenging virtual design inhibit the assertion of fiber-reinforced compposites in large volume production. Novel material systems and manufacturing processes in the field of Sheet Molding Compound (SMC), a long fiber reinforced thermoset, have significantly increased the potential of FRP for large scale applications. This trend is evident especially in the field of battery electric vehicles (BEV) for the application to battery claddings. Here, SMC can already be found in several solutions, due to its high design freedom and at the same time material low costs.
To fully exploit the lightweight potential of SMC solutions, suitable approaches for the virtual design and optimization are inevitable.
However, the manufacturing process distinctively influences the fiber structure, which in turn influences the part's performance. Therefore, the efficient virtual design requires a digital twin of the manufacturing process as well as a virtual process chain, to predict and retain information about manufacturing effects for downstream simulation approaches, such as warpage and structural simulation.



Source: KIT-FAST
Previous academic models, however, are too complex to enable the efficient material card generation for structural simulations in industrial applications. Also, they do not yet have the necessary level of maturity to map industrial processes with minimum requirements on accuracy and maximum numerical efficiency.
The public-funded project VirtualSMC remedies the current limitations for the industrial-scaled virtual design of SMC applications.
Within the project, a virtual process chain with simplified simulation approaches for SMC is developed at the Institute of Vehicle System Technology (FAST) at the Karlsruhe Institute of Technology (KIT). This includes simplified approaches for compression molding, warpage, and structural simulation.

VirtualSMC is funded by the Ministry of Science, Research, and Art of the federal state Baden-Württemberg, Germany, and the SIMUTENCE GmbH. Besides this, the Hengrui Group (HRC) and the Advanced Composites Technology Center (ACTC) support the project through the supply of an existing design for a BEV SMC battery cladding, which is used as the demonstrator part within the project. The project has already started in March 2020 and has a duration of 18 monthes.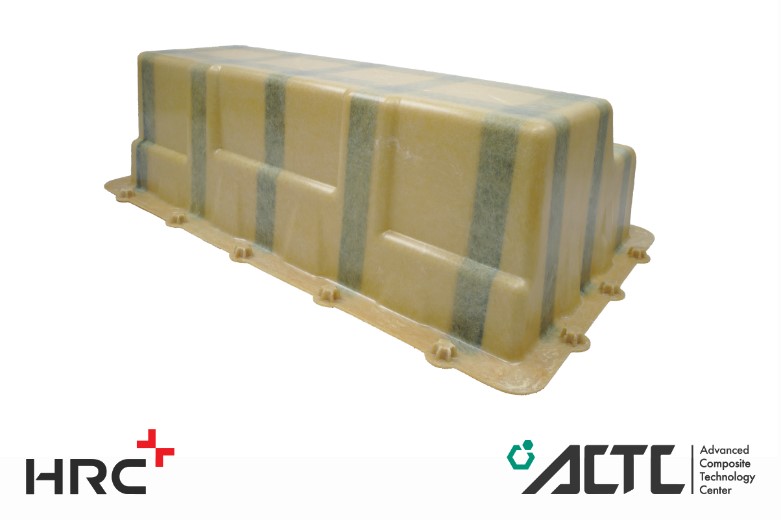 Source: HRC / ACTC
We are looking forward to an exciting project and novel simulation approaches for the efficient virtual design of SMC solutions. The simulation approaches developed by the KIT-FAST will support the assertion of SMC for large volume production and SIMUTENCE will enable the technology transfer through engineering services under the application of these methods.